(SPANISH POST) Apple juega con la idea de usar un iPhone para mover un ordenador portátil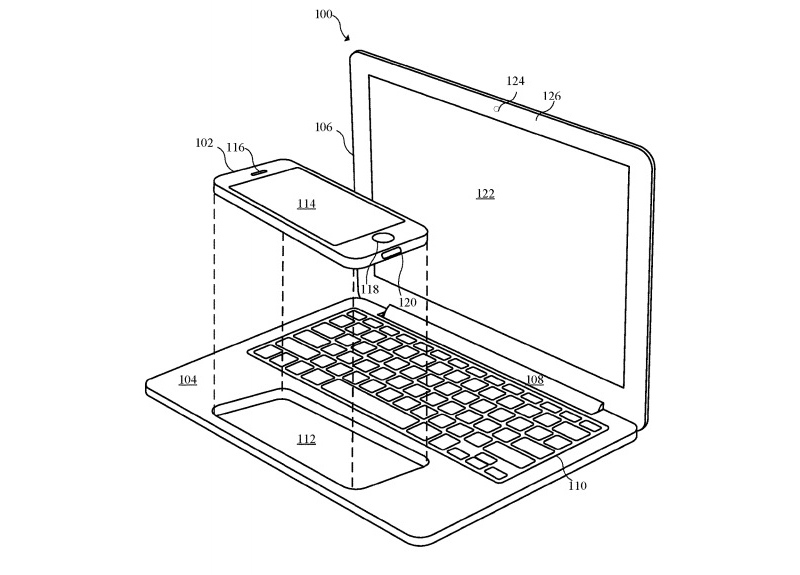 Convergencia es una de esas palabras que en el argot informático equivale a calamidad. Son muchas las empresas que han tratado de crear portátiles "tontos" movidos por un smartphone haciendo las veces de cerebro y corazón, solo para darse de bruces contra un mercado que prefiere no mezclar churras con merinas. Quien mucho abarca poco aprieta, dice el refranero popular, pero con la potencia de los teléfonos modernos rivalizando con la de muchos ordenadores de gama baja, esta es una idea que merece ser examinada con detenimiento. Esto es al menos lo que piensa Apple, que ha solicitado una patente sobre un sistema que combina una base con teclado y pantalla con un teléfono móvil.
Publicado hoy, el documento (cuyo registro fue solicitado inicialmente el pasado mes de septiembre) describe un "accesorio electrónico" con forma de ordenador portátil y un receptáculo para depositar un iPhone, proporcionando este último todo lo necesario a nivel de hardware y software para funcionar como si fuera un auténtico laptop. Apple también considera la posibilidad de que la base de conexión incorpore hardware adicional como baterías secundarias (que serían muy necesarias) e incluso una GPU extra para multiplicar su potencia de procesamiento gráfico.
El documento también describe un accesorio parecido para el iPad. Esto ya sería algo menos novedoso, puesto que la tableta de Apple ya cuenta con una ingente cantidad de bases de apoyo con teclado, aunque la inclusión de hardware de procesamiento adicional podría suponer un interesante añadido e incrementaría su capacidad para competir en mejores condiciones con los ordenadores híbridos y convertibles basados en Windows.
Por el momento no hay constancia de que Apple esté planeando lanzar un producto de estas características, y de hecho ni siquiera ha obtenido su patente, por lo que todo lo que podemos hacer es especular mientras pensamos en propuestas anteriores. Los más viejos del lugar recordarán dispositivos en la misma vena como el abortado Palm Foleo (que sincronizaba sus datos con el móvil) y el más completo pero escasamente más exitoso Lapdock para el Motorola Atrix (vídeo).
ENGLISH REVIEW:
Seems like Apple wants to do same thing as Motorola did some years ago with the Atrix smartphone (Lapdock-->Atrix). These things doesn't end good.